The second annual P&D LTA Trophy Presentation Event was help at Lee-on-the-Solent Tennis Club on Thursday 18th November.
With about 75 attendees representing almost all the clubs affiliated to the league the evening was a great success. Lee's catering of a hot and cold buffet together with a well attended bar made for a great atmosphere which was jovial and extremely friendly with team members being able to socialise with opposing players that they usually send yellow missiles at over the other side of the net!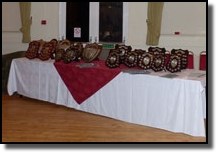 The main purpose of the evening was to present the Trophies and Certificates to the winners and runners-ups of all the Winter 2011/12 Season and the Summer 2012 Season. Jim Skinner and Michael Isaacs announced the awards and Paula Fuge and Colin Manvell made the presentations.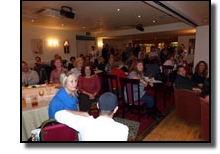 However there was also the much anticipated "catering" awards to be made to the clubs providing best post match teas. Separate Ladies, Mens and Mixed Doubles awards were made. These catering awards were embraced by all clubs with vigour and culinary expertise and the winners were seemed as proud of their catering awards as those teams were with their tennis trophies. One player commented that for one match he was fifteen minutes late on court for the first rubber as his fudge had not set properly!!
For a full list of winners and runners-up, click on the links below:
A big thank you to Vicky Williams and Lee-on-the Solent Tennis Club for hosting the event.